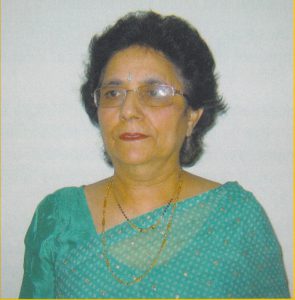 Building a Mandir, as authentic as possible and as per vedic rules and guidelines in Glasgow, has been the wish of many of us. I consider myself to be very fortunate that I am a small part of this historic moment.
I am fortunate not only that the members of the Hindu community gave me the opportunity to be involved in this sacred work, but also that I received full support from all I worked with.
As Ex President and also as the chair of the Executive Committee, I would like to mention that constructive work can only be done if people work with each other in a positive manner, give active, moral and practical support to each other. This is what motivates you and makes you work effectively.
We had a good team. Some really good devoted individuals, who worked with sheer commitment, dedication and desire to serve the community and not for any personal glory.
Mrs Maya Shorey, our President and the figure head, although unable to do much physical work due to age and ill health has given a lot of moral support. I, on behalf of all the committee members, would like to wish her a long and healthy life. Building the Temple was my dream, it was her dream, it was our dream and it was your dream too. We are proud and happy that everyone's dream has come true.
At last the long awaited "Murti Pratishta Celebrations" time is here. We are embarking upon writing a new chapter in history. A chapter in the history of Glasgow Hindu Mandir, for which we Hindus will be proud of for many generations to come. A chapter also in the long and varied history of Glasgow, a city we all love so much where we have found a welcome in.
I would like to express our sincere thanks to all those who have assisted us in this endeavour in any way – big or small. I would like to thank those who donated funds for Murties, carpets, flooring and many other related items. Thanks are also due to all the volunteers, advertisers and other workers.
Our special thanks are due to Acharya Ji and Surya Ji too. Acharya Ji's guidance, knowledge and many years devoted service to the community and the Temple can not go a miss. Surya Ji, a newcomer to the city whose past experience in building Temples has been our tower of support. His enthusiastic and dedicated attitude is something that must be specially mentioned.
Finally we must make a mention of Param Pujya Swami Ji. Dharamratna Swami Sri 1008 Gopal Sharan ji Maharaj with whose blessings, guidance and support this work has been carried out. Maharaj Ji, we humbly express our gratitude and have no doubt your blessings will always be with us.
Although our dream has been fulfilled, in fact only one chapter has been written. There is still a second unfinished chapter of that dream. That is to make a beautiful Community Centre for the Hindu community. We now have the space and must work actively towards developing the downstairs area into a Hindu Community Centre. It is not that difficult.
We can do this too but only with your help.
May God shower you all with health, wealth and prosperity.
SHOBHA NAGPAL, EX. PRESIDENT